| | |
| --- | --- |
| Special Projects/Linkages | |
| | |
| --- | --- |
| | |
| | SEAMEO-Canada:  Institutional Partnership between TROPMED Centres and Canadian Institutions |
| | |
| | SEAMEO-GTZ-CHASPPAR (Control of HIV/AIDS/STD Partnership in Asia Region) |
| | SEAMEO TROPMED Collaboration with German Agency for Technical Cooperation (GTZ) |
| | |
| | SEAMEO-France Cooperation Programme:  Applied Epidemiology, Geographic Information System, Diagnostic Laboratory, Research |
| | |
| | |
| | |

Impact of SEAMEO-AUSTRALIA Institutional Links Programme (in the 1990s)

| | |
| --- | --- |
| | Strengthening of SEAMEO TROPMED Regional Centres in the fields of health economics, community nutrition, teacher training, curriculum development, and Management Information System |
| | Development of tropical medicine and public health education and services in Cambodia, Lao PDR and Vietnam |
| | Closer North-South and South-South collaboration |
| | Tropical disease control through Primary Health Care |
| | Partnerships for joint ventures in health related development with the Australian Centre for International Health and Tropical Health and Nutrition (ACITHN), University of Queensland, Australia |
Developing Training Programs

In Nutrition, flexible delivery programs in nutrition have extended access to their offerings, and provide opportunity for collaborations in training of staff and students, with expertise in nutrition policy, monitoring and evaluation.

International Health offers training in short course format in a range of areas, and is eager to collaborate with SEAMEO partners in the adaptation and delivery of training for the region.  With Ministries of Health increasingly working in collaborations with multinational and bilateral donors, training of Ministry staff is crucial to ownership of health sector reforms.  Short courses available include:
| | |
| --- | --- |
| | Health systems research and evaluation |
| | Project planning and evaluation |
| | Community participation in health |
| | Qualitative and quantitative research |

SEAMEO-Canada:  Institutional Partnership between TROPMED Centres and Canadian Institutions

Partnership Project between SEAMEO Centres and Canadian Lead Institutions (CLIs) to strengthen teaching, research and service capabilities of TROPMED Centres (in 1990s)
| | |
| --- | --- |
| | Training of TROPMED staff in Canada |
| | Reciprocal visits of TROPMED and CLI officials for planning and enhancing linkages |
| | Technical assistance by Canadian experts |
| | Provision of equipment for teaching and research |
| | SEAMEO's Strategic Plan for the 1990s |
| | Guidelines on monitoring and evaluation of programmes and activities |
Institutions and areas of concentration:
| | |
| --- | --- |
| | TROPMED/Indonesia - University of Manitoba : Community Nutrition |
| | TROPMED/Malaysia - University of Ottawa : Epidemiology & Biostatistics |
| | TROPMED/Philippines - Memorial University of Newfoundland : Community Medicine and Telemedicine |
| | TROPMED/Thailand - University of Calgary : Clinical Tropical Medicine & Biotechnology |
The Project has paved the way for further collaboration between SEAMEO Centres and CLIs on other areas of concern.


 UNDP/WORLD BANK/WHO  





 
The UNDP/WORLD BANK/WHO Special Programme For Research and Training in Tropical Diseases (WHO TDR) has been a constant partner in SEAMEO TROPMED's efforts to contain multi-drug resistant malaria;  vector control studies; immunodiagnosis, pharmacology, socio-economic and behavioral aspects, epidemiology and control of malaria.
  
Cooperation with WHO and Ministry of Public Health Thailand in providing training and technical assistance to the European Commission Regional Malaria Control Programme in Cambodia, Laos and Viet Nam started in 1997.
  

SEAMEO TROPMED - GTZ-CHASPPAR (Control of HIV/AIDS/STD Partnership Project in Asia Region)

CHASPPAR (Control of HIV/AIDS/STD Partnership Project in Asia Region) is a collaborative project of the SEAMEO TROPMED Network and GTZ which aims to identify and test effective means of preventing the spread of HIV/AIDS/STD and further deterioration of the situation in Asia in the context of reproductive and sexual health.  The project is part of the Supraregional GTZ-Program for HIV/AIDS Prevention and Control in Developing Countries, funded by the German Ministry of Economic Cooperation and Development (BMZ).  CHASPPAR interphases with other AIDS-related programs under the umbrella of the SEAMEO TROPMED Network.
Rationale:
| | |
| --- | --- |
| | HIV/AIDS does not respect national nor geographic boundaries. |
| | Prevalence worldwide is highest among the productive sector of society. |
| | The issue of mobile/migrant populations is an important concern in the region. |
| | HIV/AIDS in Asia and its impact on national development as well as on the welfare of individuals and communities is minimized through effective partnership. |
Participating countries are Cambodia, Lao PDR,  Nepal and the Philippines.  Other countries are invited to participate in regional activities such as China,  Indonesia, Malaysia, Mongolia, Myanmar, Thailand, and Vietnam.  

CHASPPAR consists of two components namely: (1) projects complementing the National AIDS Control Program in each partner country - Cambodia, Lao PDR, Nepal and the Philippines and (2) regional activities (training workshops, consultative meetings, cross-cultural studies, field site visits, newsletter, etc.).

CHASPPAR Phase I (1996-1998) was premised on the situational analysis of the HIV/AIDS situation in partner countries.  While regional activities focused on common needs such as capacity building of AIDS control programme managers and personnel, country projects varied according to specific needs and extent of intervention currently being undertaken in each country.

Phase I of CHASPPAR involved: 
  
| | |
| --- | --- |
| | Cambodia's outreach program for "indirect sex workers" (including IEC materials development); STD management training; and evaluation of the outreach program for "direct sex workers"; |
| | Development of the AIDS curriculum of the Ministry of Education; sentinel surveillance system of the Ministry of Health; and video production by the Youth Union, Lao PDR; |
| |  Development of a community-based model of care for PWAs in Nepal; and |
| | A comprehensive community-based HIV/AIDS/STD intervention for youth; field testing of the Department of Education's AIDS module that led to its implementation nationwide; establishment and institutionalization of an HIV/AIDS "hotline" in Bacolod City; and development of a databased HIV/AIDS information system in the Department of Health, Philippines. |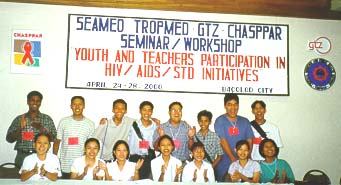 Phase II (January 1998-December 2002) involved a more vigorous approach to networking with other regional organizations to strengthen planning and resource management of AIDS control programmes at both national and regional levels.  

Some achievements in Phase II include:
Collaborative Project with UNESCO on the Development and Testing of the

Training for Trainors Manual on Preventive Education

 
Cross-cultural Studies on Healthy and Risky Behaviours in Risky Situations in

Cambodia, Lao PDR and Philippines

Reference Materials for Teachers on HIV/AIDS in the context of

Reproductive Health

Involvement in ASEAN Task Force on HIV/AIDS

Involvement in the UN Task Force on HIV/AIDS and Mobility

Participation in regional conferences/forum

Integration of HIV/AIDS activities in different line ministries at the country

level to include labor, military, youth, etc.
Phase III covers the period 2000-2002, focusing more on regional issues and activities, mobile/migrant workers and preventive education.  Specific projects of partner countries are likewise supported.  Heretofore, CHASPPAR started providing technical assistance to other HIV/AIDS regional projects.


Current Involvement of CHASPAPAR in Phase III include:
| | |
| --- | --- |
| | Collaborative Project on Pilot Testing of a Comprehensive Package for HIV/AIDS Preventive Education in the School Setting being implemented in eight countries |
| | Pilot testing of Interventions for Mobile/migrant workers in Cambodia and the Philippines |
| | Advocacy Activities for Parliamentarians and other Policy makers from member countries |
| | Curriculum Development of Teacher Training Institutions |
| | Development of Tool Box of Interventions for the Youth |
| | Rapid Assessment of Trafficking of Women and children and HIV/AIDS in Cambodia, Lao and Philippines |


SEAMEO TROPMED Collaboration with German Agency for Technical Cooperation (GTZ)


In Indonesia, the GTZ - TROPMED Regional Nutrition Project was carried out in 3 phases over a period of 10 years to upgrade and strengthen the Community Nutrition Programme at the postgraduate level. A network of Collaborating Centres in Community Nutrition (CCCN) was initiated to increase the number of national centres in nutrition with training, research and service facilities meeting national, provincial and local needs. Two of these are located in Indonesia outside Jakarta. The National Institute of Nutrition of Vietnam (NIN) in Hanoi was added to that network.
The GTZ-SEAMEO-UPM/CPH Partnership (1982-1998)
The fruitful partnership with TROPMED/Philippines began in 1982, known as the University of the Philippines, College of Public Health-Federal Republic of Germany-GTZ Institutional Strengthening Project. The project aimed to strengthen the capability of the College of Public Health to meet training, research and community service needs in the Asia-Pacific Region. The targets for assistance were infrastructure development, staff development, intervention programmes, and training, including Distance Education.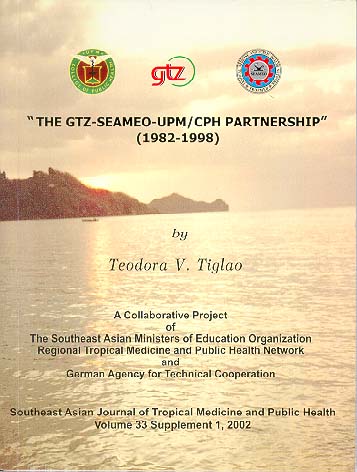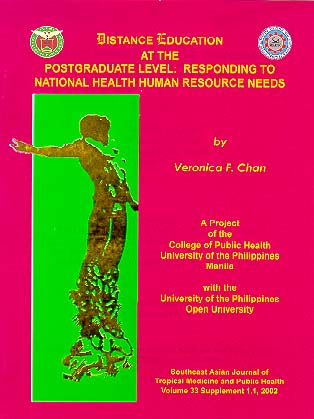 One of the outstanding features of this partnership is the "Community Health Development Project" at a selected site close to Metro-Manila which aimed to enhance undergraduate and graduate training in public health through direct involvement and interaction of students with the community and local health personnel; to update knowledge and skills of the latter; and to influence policies based on the results of the project.

SEAMEO TROPMED-UNESCO Asia & Pacific Regional Bureau for Education


Collaboration between UNESCO Asia & Pacific Regional Bureau for Education and the SEAMEO TROPMED Network began in May 1995 with a "Regional Workshop on Promoting HIV/AIDS Awareness, Prevention and Control Through Integrated EPD-Related Materials" in Manila.  The workshop was sponsored by UNESCO's Interdisciplinary and Inter-agency Project on Environment, Population Education, and Information for Human Development (EPD) with the aim of developing integrated HIV/AIDS-EPD core messages and prototype educational training materials for community health workers and NGOs, emphasizing family values and healthy lifestyles.  Results were presented at the UNESCO regional workshop in Beijing in June that year.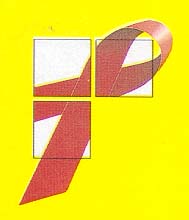 A second collaborative project dealt with the "Integration of Drug Abuse and HIV/AIDS Prevention in the Basic Education Curriculum".  The project focused on analysis of curricula, school counseling support and teaching-learning materials in Lao PDR, the Philippines and Thailand.  These countries were among four others (China, India, Indonesia and Sri Lanka) that were represented at a regional workshop organized by the National Commission for UNESCO of the People's Republic of China in August 1997.  The workshop resulted in the formulation of a "Regional Strategy: Priority Action Areas" which aimed to provide countries in the Asia-Pacific Region with a systematic framework for schools and communities to establish programmes and practices conducive to effective HIV/AIDS education.  Two major foci recommended for school-based approaches to preventive education against HIV/AIDS were: (1) Curriculum and teaching-learning resources and (2) Professional development of teachers.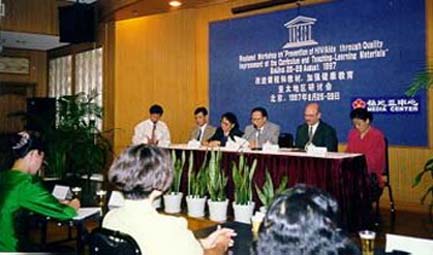 While many teaching-learning materials have been produced by government and non-government sectors, there is a need to develop strategies and methods for effective delivery of these materials and towards that end, to train teachers, teacher educators, health educators, and curriculum developers to function as a team.  Teacher competence, in turn, depends on their own understanding of HIV/AIDS prevention and skill in working closely with school health personnel.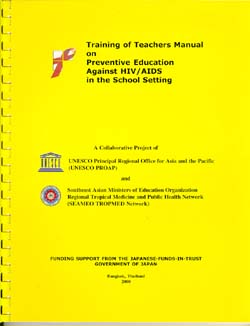 A Training of Teachers Manual was prepared which was evaluated by international experts and pilot-tested by prospective end-users. This 'generic' manual is for adaptation to suit the requirements and cultural sensitivities of respective countries while addressing the needs of classroom teachers for an appropriate HIV/AIDS preventive education material in the school setting.
To date, the Manual has been translated into Chinese, Lao, Thai, Urdu, Hindi, Sinhala, and Bahasa Indonesia.  Training has already taken place in the aforementioned countries while the English version was used in a workshop conducted in Southern Philippines.  Meanwhile, requests for copies have been received from individuals, institutions and agencies worldwide.  

A workshop on Development of Guidelines for Utilization of the Comprehensive Package for Preventive Education on HIV/AIDS was held recently to pilot-test various learning materials prepared from previous TROPMED-UNESCO workshops and to establish guidelines for their use.  Participants were from Cambodia, India, Indonesia, Lao PDR, Malaysia, Mongolia, Myanmar, Pakistan, Philippines, Thailand and Vietnam.



Impact of SEAMEO-FRANCE Programme of Cooperation

Capacity-building of key health personnel in countries of the Greater Mekong Subregion on the application of epidemiology in infectious tropical disease control and nutrition

Partnerships with French academic and research institutions and private sector on transfer of knowledge and technology in diagnostic and public health laboratory methods

Application of Geographic Information Systems in disease surveillance and control


Laboratory and field-based training workshops on the epidemiology and control of malaria were conducted jointly with WHO and European Commission's Regional Malaria Control Program in Cambodia, Lao PDR and Vietnam.


The SEAMEO TROPMED-Rockefeller Foundation Health Equity Project


GOAL of the Project:  To develop self-reliant communities in Cambodia, Lao PDR, Myanmar and Vietnam, with the capacity to identify and analyze health problems and to devise ways and means to solve them through scientific methods and participatory approaches

OBJECTIVES:
| | |
| --- | --- |
| | To review existing national policies and health systems which impact on health |
| | To describe and analyse the health status of communities in terms of people's perceptions and verifiable indicators |
| | To train a pool of community health workers (stakeholders, volunteers, youth, women, etc.) in critical thinking and in the application of scientific methods of problem solving |
| | To increase the level of functional literacy in health |
PROJECT COMPONENTS:
PROJECT MANAGEMENT TEAM: Secretary-General/Coordinator and Asst. Coordinator of the SEAMEO TROPMED Network; Technical Experts/Consultants; National Coordinators; and Focal Persons
TRAINING:  
| | |
| --- | --- |
| | Training of National/Trainers Team |
The Project aims to develop the management, training and research skills of key personnel representing central and provincial levels of the health system, herein designated as the National/Trainers Team.
| | |
| --- | --- |
| | Training of Implementing/Local Teams |
The National/Trainers Team will, in turn, organize and train a core group of community health workers, the Local or Implementing Team, who will be involved in the conduct of research addressing an identified priority health problem or issue, guided by a Technical Expert/Preceptor.

| | |
| --- | --- |
| Cambodia.... promoting self-reliance in health | Lao PDR.... health needs assessment at the community level |
| Myanmar.... participatory learning | Vietnam.... training of implementing/local team |
DIRECTED RESEARCH: supervised one year study in selected communities involving the National/Trainers and Implementing/Local Teams, with Technical Experts/Preceptors
Criteria for the selection of study sites
| | |
| --- | --- |
| | Rurban area (rural community in transition) |
| | Adjacent to city and accessible via land transportation |
| | Population ~ 20,000-25,000 |
| | Willingness of community to participate |
| | Others, as deemed appropriate by country authorities |
EXPECTED OUTPUTS
| | |
| --- | --- |
| | A review of policies, health systems, and health profiles |
| | Training modules and training of implementors |
| | Mid-term and final reports, including evaluation |
| | Teams of trained key health personnel and community health workers |
| | A model for community building and promoting functional health literacy |
| | A document on lessons learned and recommendations for future interventions |

Liverpool Lymphatic Filariasis Support Centre 

Lymphatic Filariasis Information Network, in collaboration with WHO, SEAMEO TROPMED, and LF Support Centre in Liverpool, UK - initiated in Mekong-plus countries (Cambodia, Indonesia, Lao PDR, Malaysia, Myanmar, Philippines, Thailand and Vietnam) to share information and experience, to understand the distribution and extent of infection within countries, and to undertake a needs assessment for developing the necessary infrastructure for programmes to eliminate the disease.


Partnership with EC Regional Malaria Control Programme in Cambodia, Laos and Vietnam is in the form of:
| | |
| --- | --- |
| | Training of key health personnel |
| | Research consultancy and |
The EC Programme assists government in decreasing morbidity and mortality due to malaria by reinforcing capacities of national health systems through acquisition of knowledge and development of managerial skills of malaria control workers.